Cold weekend in Copenhagen
Monday, February 29, 2016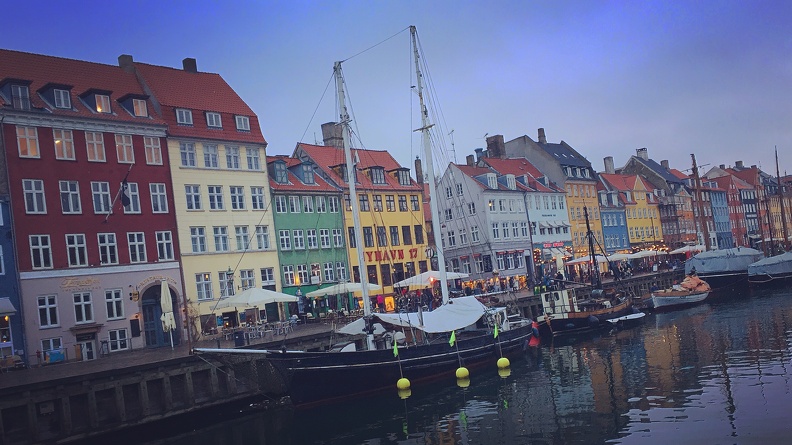 Copenhagen is an excellent city for a weekend break. Perhaps January isn't the ideal time to visit, with Tivoli (the large theme park) closed until April. However, don't let this alone deter you, as there's more than enough to do all year around.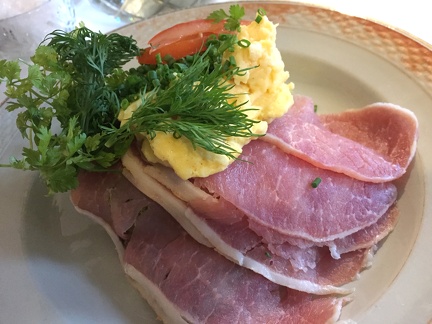 Finding a hotel in Copenhagen is the hardest task - most of the hotels have average reviews, but charge exorbitant prices. We stayed at The Admiral Hotel - a former grain store, which is near to the picturesque Nyhavn and looks out over Copenhagen's harbour. It wasn't exactly luxury, but did have its quirks thanks to the stone and timber construction. It would have been better without the smelly drains in our room and when busy I suspect noise will travel too easily.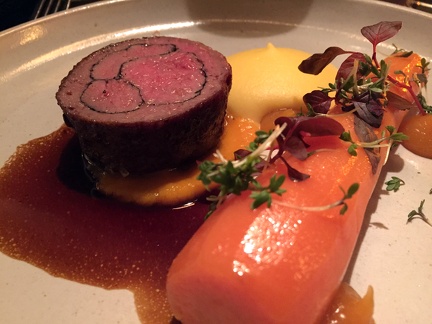 Transport wise, we stuck to our feet for the most part. Getting into Copenhagen from the airport is a less than 15 minute task, thanks to the underground. Once in the city I recommend a boat trip - a perfect opportunity to navigate the canals of Christianshavn and enjoy views over to Sweden. There seemed to be two competing boats - given how cold it was, we chose the next to depart, which happened to be the cheapest. The tour guide was excellent; interspersing city commentary with humorous facts and anecdotes.
We had an unexpected culinary treat on Friday, when we stumbled across Den Lille Fede. Here you have two choices: 5 or 7 courses and with or without wine. We had the 5 courses with wine pairings. The choices may be limited, but each dish was fantastic; in particular the blackened cod (only just cooked and retaining all of its flavour) and the veal with ash (complete with whole carrot). The wine servings were a little too generous - but that is hardly reason for complaint! A special shout out to the bread - crusty on the inside and deliciously doughy on the inside. Truly one of the finest restaurant breads I've tasted. I imagine it may be hard to just walk in and get a table like we did, during the peak season.
Saturday began with a trip to see the Little Mermaid. Then a walk through Europe's longest pedestrian street - Strøget. With Denmark being the home of Lego I expected a flagship store; disappointingly not - Copenhagen's Lego shop is so generic it could be in any city.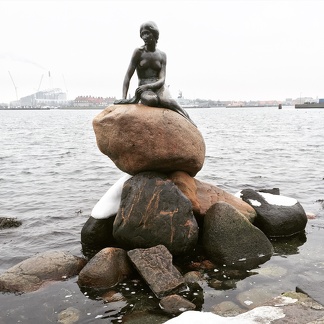 Denmark is famed for its Smørrebrød - an open top sandwich, usually made with rye bread. Tivolihallen is the perfect place to enjoy this national speciality. Mine had plenty of pork topped with scrambled eggs. Opposite the corned beef was tender and perfect with its onion. The restaurant is extremely popular with Copenhagen locals - but friendly in the extreme to tourists. Unfortunately I think I was the only one who rejected their offer of schnapps - apparently it's homemade and the restaurant is famous for it. Don't make the same mistake.
The meatpacking district behind Copenhagen's train station is awash with trendy bars and restaurants. Given the adverse weather we took a taxi from the hotel. Immediately we headed for a drink in Warpigs to overcome the shock at the price of the taxi. Warpigs is a huge BBQ restaurant, which has 22 different homemade beers on tap. I wasn't so impressed with the beer (probably just a poor choice on my part) - but the brisket and ribs looked good.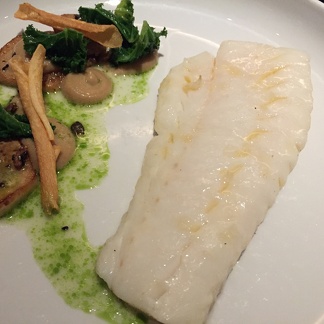 Our destination in the meatpacking district was the trendy Kodbyens Fiskebar. Inside it's full on hipster, but there is substance to solidify the style. Our cod was beautifully cooked, as were the scallops. I am glad we tried Fiskebar, but I think it's overpriced for what you get. Maybe a little snack at the bar with a glass of champagne and a meal at one of the meatpacking's other restaurants would be our choice, if given the chance again.
An opening date of 1870 makes La Glace Denmark's oldest cake shop. It's easy for places like this to become tourist traps and dine out on their reputation. Thankfully that's not the case here. The selection of cakes is huge and the quality of them all is incredible. Infact the place is so good, we went twice - the second time we had to brave the outside queue in freezing temperatures. The black forest gateau has extreme amounts of flavour, but my favourite remains the caramel heavy HC Hat. If you order the hot chocolate, don't be too shocked by the huge plate of cream that accompanies it. Those on diets should stay well clear!
Nearly every restaurant in Copenhagen allows online booking, with The Union Kitchen no exception. The brunch here was absolutely fantastic. Firstly the basics of scrambled eggs with smoked salmon and avocado was faultless and generous. But the star was the heavenly bowl of pulled pork. Not just pulled pork but a bowl full of avocado, peas, tomato, spinach, tortilla strips and a poached egg. My only complaint was I could have eaten double the portion size. Good coffee and great fruit juices too. Reservations are essential - we saw countless people turned away.
Living in Switzerland now, means good Chinese restaurants are few and far between. Royal Garden in Copenhagen is a traditional Chinese, with big tables, plants dotted around and murals of dragons on the walls . Starters of dim sum were very good. Chicken with asparagus proved their kitchen could manage the "classics". But the standout really was lamb served with scallions and ginger in an iron plate - a little spicy for some, but tasty in the extreme. Overall an extremely competent Chinese restaurant and a perfect meal to bid goodbye to Copenhagen with.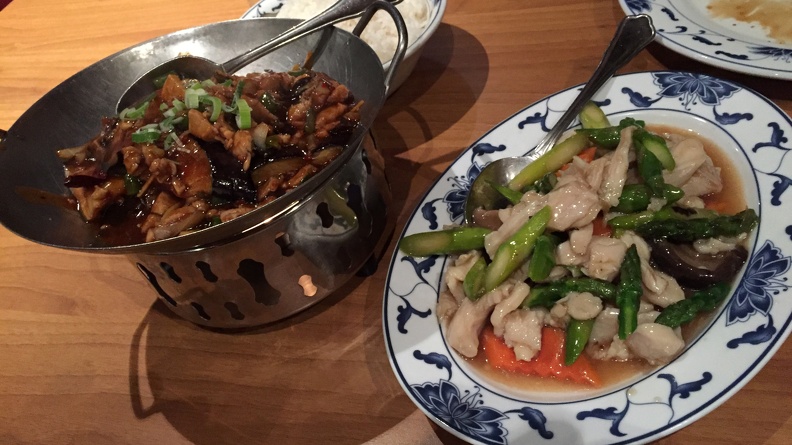 We stayed away from Copenhagen's "big hitting" restaurants like Geranium or Noma, but the food we ate was excellent - so there's something for everyone, irrespective of where you sit on the "foodie scale".
With its low ceilings, Copenhagen's airport was a little claustophic, but the range of shops is excellent. And I'm talking proper shops where normal people can spend their money - not like the designer gentrification Heathrow Terminal 5 is only too happy to entertain.