Three nights as a tourist in London
Saturday, August 26, 2023
London is an amazing city to visit as tourists. We flew to London City airport; meaning we were on the DLR (Docklands Light Railway) heading to Bank station 35 minutes after landing.
Accommodation in London is expensive, but we were happy with our two bedroom Airbnb in Chelsea (it worked out at £400 per night). Our choice of location would have been much worse if the threatened tube strike had gone ahead. But without the strike our transport options were numerous, including London overground services. My daughter also had great fun watching the helicopters take-off and land at London's heliport from the living room of our Airbnb.
Getting Around
I ordered visitor Oyster cards from the Transport for London website. These were £20 each and came loaded with £15 in credit. Because of price capping you save money with an Oyster card. However, I didn't know exactly the same was possible using a contactless debit or credit card! At least the Oyster cards looked nice and, when leaving London, the machine eventually refunded our credit. With an Oyster card (or contactless payment card!) you tap in and out (in only on buses) when using London's public transport.
The Uber Boat / Thames Clipper provided the best transport experience of our trip. We caught this stylish Uber branded vessel from Imperial Wharf all the way to the Tower of London. Along the way you're treated to a river level view of many of London's best sights. And you arrive in style for the short walk to enter the Tower.
The step-free access at many of London's underground stations impressed me, with the tube map using the wheelchair symbol to denote stations which have alternatives to stairs. For example on my way to King's Cross, I saved my back from a lot of luggage induced pain, by taking a bus to Earl's Court and a lift down to the Piccadilly line.
We only used a black cab once - to get from Bank station to our AirBnb, so the apps I installed in anticipation of the tube strike (Bolt, Uber, Gett and Addison Lee) were not called into action.
Food and Drink
Lunch before our visit to the Royal Mews and Buckingham Palace was at Pizza Pilgrims Victoria. This restaurant has a casual and colourful vibe. Pizzas are the Neapolitan style. Unfortunately, one of our pizzas had an unpleasant black base. And, for me, the crust was a little too dense - the best Neapolotan pizzas I have eaten have been puffier and lighter around their circumference. The pizza was good, but hardly pilgrimage worthy. Prices are very reasonable though (e.g. my smoky aubergine parm was only £11.50).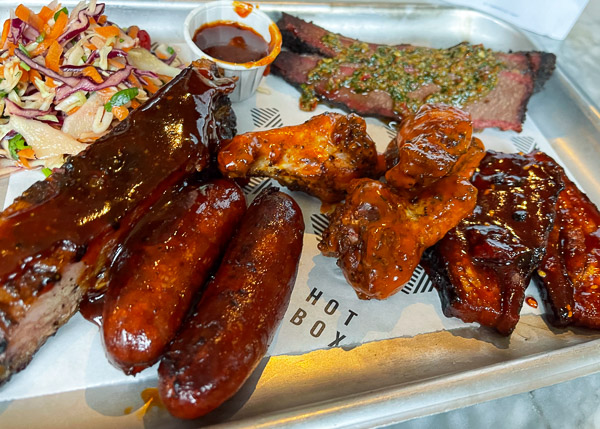 Judging by TikTok, food courts are all the rage in London. We joined the action by visiting Market Halls Victoria; just opposite Victoria station. It's a busy and bustling place, but big enough to find a seat on one of its levels. Market Halls Victoria has a great choice of food stalls and its bars serve a lot of very good draft beers. Butchies buttermilk fried chicken tenders were very good, especially their house barbecue sauce. Unfortunately the smoked selection at Hotbox barbecue (£22) was a total disappointment, with the brisket as tough and dry as old leather. No pitmaster should have put that on anyone's plate.
British pubs are able to conjure an atmosphere effortlessly and the Lots Road pub in Chelsea (near where we stayed) is no exception. This is a very good gastropub, with a good selection of beers including the refreshing draft Beavertown Neck Oil. My chicken souvlaki was nicely done and came with an excellent flatbread. Somewhat unexpectedly there was Bakewell tart for dessert, whose almond and jam flavours matched the vanilla ice cream perfectly.
Chinatown is a wonderful part of London, with red lanterns overhead and so many food options crammed together. I always remember one of my friends letting fate (not Google) decide where to eat one evening. That fate was 24 hours living in his hotel bathroom. I think it's fair to say that even with a strong 5G connection Chinatown is a difficult place to choose a good restaurant. We opted for Dumplings' Legend - a venue we discovered when leaving that King Charles had visited himself. Watching the dumplings being robotically built by humans in the kitchen passed the time until our food arrived. The special fried rice and prawn fried rice were both competently prepared. And our dumpling selection was without fault - my personal favourite being the steamed prawn dumplings from the Dim Sum menu.
Isn't part of any good tourist trip to London enjoying afternoon tea somewhere? We thought so. And after watching the UK television series about Claridges we were motivated enough to book a slot 90 days in advance. Firstly, the cost is high - for the champagne afternoon tea it's £113 per person once the service charged is added. The children's afternoon tea is less at effectively £50, but it's still a lot. But there is something special about sitting in a beautiful room, listening to live piano and violin music, while being served by a brilliant waiter. The sandwiches were excellent, especially the egg mayonnaise. If I was to be a competitive eater in anything, it would be scones with cream and jam - so my cholesterol certainly didn't benefit from the unlimited refills. Overall the scones and desserts didn't have the wow factor we experienced previously at The Langham, but to visit Claridges and enjoy this famous hotel it was worth it.
The quality of food at tourist attractions has improved recently. For instance the pizza at the Tower of London's New Armouries Cafe was hard to fault. As was the chocolatey indulgence of the Ravens cake we enjoyed at The Tower's Ravens cafe (pictured above). The train ride to Scotland was very hot (thanks to broken aircon from Avanti West Coast), but the sushi and terriyaki salmon on a bed of rice from Itsu (Euston station) was very good and much better than a sandwich.
Tourist Attractions
As we found out last year in Edinburgh, life as a tourist demands booking your tickets in advance for a specific timeslot. Spontaneous visits in a post-COVID world are rarely possible. The Royal Mews, Buckingham Palace and the Tower of London are no different - you must book online tickets days or weeks in advance to guarantee entry.
The Royal Mews offers a couple of horses in stables and a lot of historically relevant carriages to look at. The highlight is undoubtedly the gold state coach, which made an underwhelming visit worth it. This vehicle is much larger in real life than it looked on TV. The staff here were a little snooty and abrupt. I am not sure why.
Having never been invited to a garden party at Buckingham Palace (or, unsurprisingly, a state dinner), this was my first visit to the former home of Queen Elizabeth II. You don't see any bedrooms but you do enjoy the spendour and vastness of the grand staircase and throne room. This visit provided a good grasp of just how vast the space inside is. Outfits and jewellery from King Charles' Coronation were on display - one child vomited on the carpet nearby, which elicited an emergency response including a large metallic box full of specialist cleaning products. There is a pleasant children's terrace at the back with some games to play. The cafe looked nice, but the service was incredibly slow so we headed for the exit instead. The walk to leave weaves through the Buckingham Palace gardens and takes in its pond and plentiful mulberry trees.
As soon as we entered the Tower of London we headed to see the Crown Jewels. This was a wise decision as when we came out the queueing time was over 45 minutes. We got lucky with the weather - so walking the walls of the Tower and admiring the size and beauty of this near 1000 year old site was an absolute pleasure. The highlight of our Tower trip though was a raven called Poppy. She hopped and lingered by our table at the Ravens cafe - a place we had to visit, after its appearance in a Paddington Bear book.
I added a new rule to my tourist rulebook: never visit the Natural History Museum during the English school holidays, or at least the first week of the school holidays. The museum was so busy that it was hard to focus on anything as members of our species ebbed and flowed from every direction. Some respite was afforded by paying £50 for the four of us to enter the Titanosaur exhibition.
London is a very walkable city and a lot of the sights don't need an entry ticket:
Statues in the Square (at Leicester Square) is excellent. You or your child can sit next to Paddington Bear on a park bench, gaze up at Batman on the roof of the Odeon, stand under Mary Poppins' umbrella or pose with Gene Kelly as he sings in the rain

Trafalgar Square was more pleasant and larger than I remembered. There were so many people taking photos with the lions; lions which were also larger than I remembered

Tensions were running high outside Buckingham Palace with one group of tourists insisting to another there was queue to take photos outside the gate. There's something very British about seeing the soldiers on duty outside though and imaging all of the joyous and sad events that have taken place infront of the palace's famous gates and down The Mall

You can't see much of 10 Downing St anymore, due to the abundant security; but I always enjoy the walk down Whitehall and passing the Cenotaph
There was no evening theatre trip this time, but we visited an early afternoon performance of The Tiger Who Came To Tea at the Theatre Royal Haymarket. Definitely one for the children - who all left happy. We also didn't do much shopping. However a trip to Hamleys did raise our eyebrows with their prices e.g. £40 for a 13.5cm tall Hamley's exclusive Paddington Bear. The shops at the Tower of London and Buckingham Palace were very good for memorabilia, including the Christmas tree decorations we purchased.
Bottom line: London remains a great city to visit.