This is my second Edinburgh trip report (the first was during the Edinburgh festival season). The lure of the city that was my home for nearly 8 years is too strong. Edinburgh is a beautiful city and a must visit if you haven't yet been. Interestingly, despite having lived in Edinburgh for nearly 8 years I had always pronounced the "burgh" with a single syllable; thanks to eavesdropping on a conversation between a Scotsman and a Swiss in the queue to board my Edinburgh bound Easyjet plane it seems the "correct" pronunciation is actually: edinburra.
This time we stayed at an AirBnb on Canning Street Lane, which had three levels to explore. The cobbles at this location proved a great spot to explore the city from. Shandwick Place is just around the corner - meaning it was easy to catch trams and buses to anywhere in Edinburgh. Having a good pub nearby also helps - we were happy with the atmospheric Fox and the Faun and its very good selection of draught beers.
The Edinburgh Tram now goes all the way to Newhaven. I remain dismayed at the half hearted attempts at integrated public transport in Edinburgh; some tickets do allow travel on both buses and trams, whereas some others like the 3 day ticket do not. Buyer beware! Our airport tram also stopped and did nothing for a while on Princes St, which extended a supposed 32 minute journey to near one hour. As our flight wasn't until early evening we stored our cases at the Premier Inn at York Place by booking on stasher.com. This was orders of magnitude cheaper than using the premium priced left luggage facility at Waverley station. There are also electronic self service lockers at Edinburgh bus station, but some were out of order and I didn't trust them enough to use them.
What we did
Our main reason for visiting Edinburgh this time was my daughter's birthday present: the "mini keeper experience" at Edinburgh Zoo. There is no tram to Edinburgh Zoo, so we took a bone rattling bus in the direction of Corstorphine. Visiting during school holiday time meant a very large queue; not helped by the fact Edinburgh Zoo do not have automated gates to scan pre-purchased tickets.
The mini keeper experience, however, was excellent. Two children participate at a time and it lasts approximately 90 minutes. My daughter's enjoyment was helped by the permanent zookeeper who made the whole experience friendly and fun. Cleaning up the lemur poo and leaving the lemurs some food was the first activity, before moving on to feeding the spiky porcupines inside their enclosure - they really were not in the mood for sweet potato; promptly rejecting it after a sniff. The experience ended with a walk past the sloths and holding an armadillo. There were plenty of photo opportunities throughout, including my daughter walking with her bucket of animal poop up a "Keeper's Only" path.
After the mini keeper experience we enjoyed the steep hills and animals of Edinburgh Zoo. If you only have time to see a few things I would recommend the lemurs, meerkats and penguins. The penguins live in a large space which has a waterfall and bridge over their large pool. Sadly, no penguin parade this time, and the pandas were catching some shut-eye, maybe prepping for their long journey back to China. For food we enjoyed some disappointingly battered fish and chips at Edinburgh Zoo's Gannet restaurant (see separate section further down for more details).
This time, by purchasing our tickets week in advance, we did not miss out on Edinburgh Castle. The castle is home to the Crown jewels of Scotland, otherwise known as The Honours of Scotland. We had to queue for nearly 30 minutes and, while impressive, there is only really a crown, septre and sword to see in a single room. Visiting the Crown jewels alone doesn't justify a visit, but the building itself and the 360 degree views across Edinburgh do - truly stunning. Theatre is provided at 1 'o' clock each day when the large gun is pointed upwards and fired. The gun ceremony attracts huge numbers of onlookers - so try and get in position early. Edinburgh Castle is also home to the Scottish national war memorial; which is solemn and moving - especially the numerous books filled with names of the dead.
I remember Camera Obscura from when I first moved to Edinburgh over 20 years ago. At that time you could just walk up, pay and enter. Now you have to book a timeslot or risk disappointment; an emotion numerous people experienced while we were waiting for our tickets to be checked. It's still amazing that the technology to project views from across Edinburgh onto a table was available in the 1800s and that it is still fundamentally the same today. The lower floors of Camera Obscura were more professional and expansive than I remembered, with a great range of interactive visual exhibits to keep children engaged. Though I still feel dizzy from the Vortex Tunnel at the end.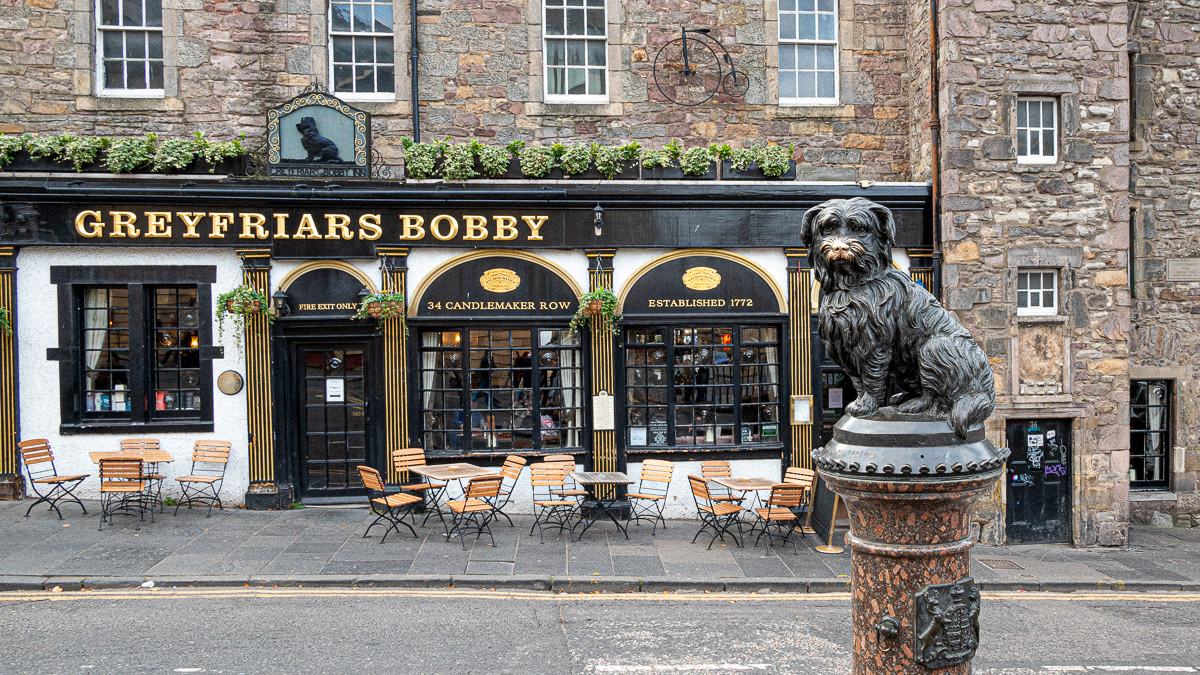 Greyfriar's Kirkyard was a lot busier than you might expect a graveyard to be. The key attraction is Greyfriar's Bobby, the dog who sat on his owner's grave until he died 14 years later. Even if the story isn't true it's nice to believe it is. There's the dog's headstone and a memorial which was erected in 2021. His owner, John Gray's grave is also here - but much less popular than his dogs. A few minutes way is the Greyfriar's Bobby Fountain outside the pub of the same name. You won't struggle to spot Greyfriar's Bobby by virtue of his shiny gold nose - the result of thousands of people touching it for good luck.
St Giles' Cathedral is beautiful. The body of Queen Elizabeth II was laid here for 24 hours, before making the journey to London. The cathedral is free to enter, but there are collection boxes and card readers everywhere to encourage a donation. You can also light a candle to remember a loved one. It is truly a stunning space - their website says it costs £2500 per day to keep the cathedral up and running; and they receive no public funding.
The attraction that I haven't mentioned is Mary King's Close. I visited a long time ago and found it truly excellent. Currently my daughter wouldn't appreciate the somewhat scary nature of it; but if you are visiting Edinburgh I do consider it a must.